Lanovo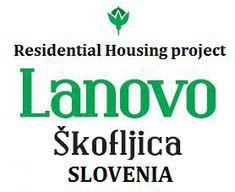 Location
Located south-east of Ljubljana on the edge of the city limits, just a few kilometres from highway ring around city and shopping centre 'Rudnik' , the area in question is surrounded by rich vegetation. Vital institutions such as school, kindergarten, health centre, and fire station are already provided for.
Project description
In accordance with community regulations the project itself consists 183 apartments in 12 build blocks of flats and 45 town houses surrounded by natural environment. We also build the entire communal and traffic infrastructure for the residential area.
In residential zone we plan to build three rows of inhabitant-friendly blocks of flats, the first and second row having two storeys and an attic above the ground floor and the third row having three storeys and an attic above the ground floor. With few horizontal and vertical communications and spacious rooms abundant in daylight they provide a high standard of living.
The flats will vary from single-room to mostly double-room and fewer three and four-room ones. The design of individual units will enable merging two of them into one larger unit. Should the demand arise for secured and adapted flats for the elderly residents of Škofljica community, we can provide such flats in the first line of buildings.
To ensure ample parking lots for residents as well as visitors we are going to build a car park accessible from the main road along the Škofeljšcica stream by two access roads. The parking area will be partly covered and lined with trees and central reservation belts. Above it there will be a children's playground.
The remaining area between the buildings will be entirely planted with trees and bushes and equipped according to the latest standards of modern parks. Behind the third row of buildings, furthest from the traffic, there will be a playground for toddlers. All buildings and facilities will be connected by paved paths.
Town houses zone of various size are going to be lined along a curved central road. The residential area not only encircles a forest on a small hill but also boasts a beautiful view of Ljubljana.
The detached houses will be independent units, each having its own garden the size of which will depend on the location and terrain of the property. Parking lots with sheds will be built next to each house for the residents while parking for visitors will be organized along the road.
The residential units will vary in size from 110 m2 to 170 m2. If so required by the future owners, single units can be merged into larger and more comfortable ones.
A small park is planned also in this zone for social and community meetings of the residents.
The whole project is built according to the geomantic rules.
Conclusion
Based on our experience, we can say, that the project Lanovo has many advantages compared to some other projects and offers on the present slovenian real-estae market:
The only residential project on the edge of our capitol city Ljubljana with a low stage of capacity of buildings and lots of green areas
Good constructional quality with the materials and equipment from a leading companies
The residential area is located nearby a school, kindergarten, health-station and offers lots of recreational activities
Our company has its own marketing and sell department which gives us a good opportunity to be successful.